August is National Picnic Month, a perfect time to lounge on a knoll or the beach, take in a scenic view, and treat yourselves to the bounty of summer's harvests. It's as easy as cherry pie when your late summer getaway is to Clementine's Bed and Breakfast in Astoria.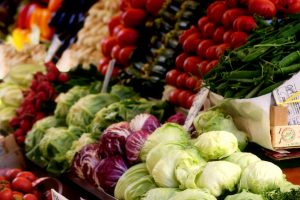 Your picnic fare can be waiting for you just a five minute stroll down Exchange Street at the Astoria Co-op Grocery, where you will find locally grown 'fresh foods that are good for you and the planet". You don't need to be a member – all hungry shoppers are welcome! Their grab-and-go deli can supply you with a great selection of wraps, sandwiches, salads, and more, plus a soup of the day made from scratch. There always are vegetarian, vegan, and gluten-free choices available. An Astoria landmark for over 40 years, the Co-op was recently named Best Grocery Store by the Coast Weekend's Reader's Choice Awards. The Co-op works directly with as many farmers and producers as possible, so you have choices of produce, meats, breads, hummus, and tempting treats from nearly 100 local suppliers.
Now that you have your picnic goodies, it's time to choose your picnic spot with a scenic view. You're in luck, with so many options in the area. For a spectacular view over the city, the Astoria Column on Coxcomb Hill in the heart of Astoria is your choice. It's a 5 minute drive or a 25-minute walk from the inn or the Co-op. Your hilltop perspective gives you views of the Coast Range, Young's Bay, the Columbia River, and even the ocean in the distance. There are picnic tables and restrooms, and after your picnic, you can hike the Cathedral Tree Trail.
If you'd rather have your scenic view at sea-level, head for the Pacific Ocean at Sunset Beach, less than a 20 minute drive from the B&B. Take the boardwalk to your picnic site on the beach, where you'll have views toward Cape Disappointment in the north and Ecola State Park in the south. For a pre-picnic hike here, there's the historic Fort-to-Sea Trail. There's no better place to celebrate National Picnic Month than Astoria, so make your reservation at the inn and get ready to pack your picnic basket now!
Astoria Co-op Grocery
1355 Exchange St., Astoria, OR 97103
Hours: 8 a.m. to 8 p.m. daily
Phone: 503-325-0027
Astoria Column
Coxcomb Hill, Astoria, OR 97103
Hours: Monday-Friday  9:00 am to 5:30 pm Saturday-Sunday 9:00 am to 5:00 pm
Phone: 503-325-2963
Free access to Column   Parking: Limited, $5 per vehicle for a one-year pass
Sunset Beach State Recreation Site
US 101, Pacific Coast Scenic Byway, Warrenton, OR 97146
Free access to Recreation Area, Free Parking