Valentine's Day isn't the only excuse you can use for a February getaway to a bed and breakfast! February is National Hot Breakfast Month, and here at Clementine's Bed & Breakfast in Astoria, MAGIC happens in our kitchen for breakfast. You'll be pampered with a multi-course gourmet meal each morning, with choices that vary each day. The aroma of freshly-brewed coffee and Judith's warm muffins, scones, or coffee cake will draw you into the kitchen, where a choice of juices, hot beverages, and a first course of seasonal fruit await you. In February, it might be baked pears or apples, or perhaps a warm fruit crisp.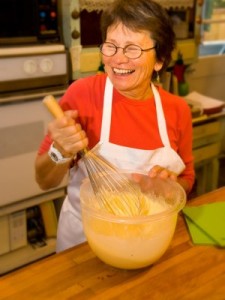 Your main dish might be savory or sweet– an individual skillet of baked eggs with smoked salmon, Dungeness Crab Eggs Benedict, a blintz souffle with berry sauce, or Clementine's Famous Buttermilk Cornmeal and Oatmeal Pancakes with seasonal fruit. After being pampered with a hot breakfast like this, you'll be ready to explore all the activities Astoria holds in store, from museums or shopping in our historic district to outdoor adventures like a hike up to the Astoria Column or exploring the length of Astoria's Riverwalk.
If National Hot Breakfast Month isn't enough excuse for a late winter vacation to our B&B, you can celebrate National Muffin Day, February 20, or Pancake Day on February 13, 2018, with a delicious breakfast here in our cozy kitchen. Just give us a call to reserve your stay and let us know what tasty holiday you'll be celebrating – muffins, pancakes, all the courses on our hot breakfast menu, or Valentine's Day. If by chance you have to wait until spring for your great Oregon escape, why not celebrate Pancake Day (or any other day of the month) at home with a batch of Judith's Greatest Pancakes?