In December, Astoria, Oregon, is filled with the sounds and sights of Christmas, from holiday concerts at Liberty Theater to Scrooged in Astoria! to the Victorian decorations with tea and plum pudding at the Flavel House Museum. At Clementine's Bed & Breakfast in the historic district, guests enjoy staying at an intimate boutique hotel located near these holiday events as well as Astoria's unique shops, galleries, museums, and restaurants. Here are some of the December, 2018, holiday events guests can enjoy:
Concerts at the Liberty Theater (just a 7 minute walk from our B&B):
Saturday, December 8, 2018 at 7 pm (doors open at 6 pm): The Columbia River Symphony Annual Holiday Concert Noel presents holiday music to listen to and sing along with. Admission: Free (Come early, auditorium fills quickly).
Sunday, December 16, 2018, at 2 pm:        The North Coast Symphonic Band presents their concert Festive Winter Holiday together with the North Coast Chorale, Cheri Walker, harpist, and local opera star Deac Guidi. Selections will include Christmas carols, White Christmas, O Holy Night, and Christmas on Broadway, plus a narration of The Night Before Christmas. The North Coast Trombone Ensemble will entertain with holiday music from the balcony from 1:30 – 2 pm. Admission: Adults $15, children 18 and under free. Advance purchase of tickets from the Liberty Theater Box Office recommended.
Saturday, December 22, 2018 at 6 pm: The Astoria Christmas Fantastic: A Holiday Show with Kelley Shannon and Friends. The performance also will feature the North West Jazz Quartet and the North Coast Chorale's performance, Songs About Mary. Admission: $15. Purchase tickets from the Liberty Theater Box Office.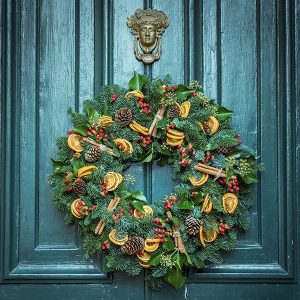 Astor Street Opry Company a 15 minute walk from our B&B, presents the 12th Holiday Musical Melodrama Scrooged in Astoria! Performances are November 30 – December 22, 2018, on Fridays and Saturdays at 7 pm. Sunday matinees are December 9 and 16, 2018, at 2 pm. Presented as a 1960's style Holiday TV special, the light-hearted show combines themes of A Christmas Carol with characters from the summer melodrama, Shanghaied in Astoria!
Admission: Fridays, $10. Saturdays and Sundays: Front row seats $20, all other adult seats $15, children $10. Purchase tickets from Astor Street Opry Company.
Guests can step back to the Victorian era in Astoria, celebrating Christmas traditions at the Flavel House Museum, right across the street from our bed and breakfast.
Flavel House hosts its annual Holiday Tea and Plum Pudding event daily from Saturday, December 15 – December 22, 2018 and Wednesday, December 26 – December 30, 2018. Time: 1 – 4 pm. You are invited to enjoy a self-guided tour of the Victorian mansion decorated for a late 19th century Christmas celebration, plus afternoon refreshments of traditional plum pudding and tea. Admission: $12 per person.
Monday, December 17, 2018, from 6 – 8 pm, you're invited to celebrate an Old-Fashioned Christmas at the Museum, including holiday music, refreshments, self-guided tour, and a visit from St. Nicolas. Admission: $5 Adults, $4 Seniors, $2 Students and Children ages 6-17, 5 and under, free.
The holiday season is here, and we're waiting to welcome you with Christmas cheer at our historic B&B. Our guests enjoy sophisticated décor, luxurious linens and spa robes, free Wi-Fi and parking, plus a multi-course gourmet breakfast to start the day and complimentary afternoon refreshments to welcome you home. Let us help you plan a special holiday getaway this December – just give us a call at 503-325-2005 or go online to reserve your stay.