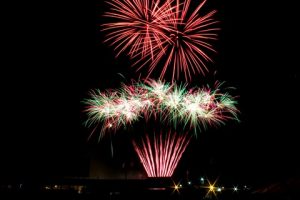 Step back in time from 2016 to days gone by and enjoy some old-fashioned Independence Day celebrations all weekend long in Astoria, Oregon with a parade, fireworks, American Heroes concert, BBQ, and more. You can get in the spirit Saturday afternoon, July 2nd by tasting 'Wines for July 4th Holiday BBQs' at The Cellar on 10th in the Astoria Underground from 1-4 pm.
Sunday, July 3, 2016, plan to enjoy Astoria's Sunday Market (10 am – 3 pm) in the heart of Astoria's historic downtown, just a five minute walk from Clementine's Bed & Breakfast. Brownsmead Flats will be performing on its Music Stage located in the Food Court.
Music continues Sunday evening with a traditional concert of patriotic music at the Liberty Theater celebrating 'American Heroes'. The North Coast Jazz Ensemble will present pre-concert music at 7:00 pm; the concert by the North Coast Symphonic Band begins at 7:30 pm. Some of the instrumental selections will honor Abraham Lincoln, the Coast Guard, and the United States Space program. In addition, guest vocalists Andy and Rachel Becker will sing familiar patriotic songs and a medley 'The Homefront: Musical Memories from WWII'. The concert is free (donations accepted). Tickets may be obtained at the Liberty Theater Box Office Phone: 503-325-2431 (open Wednesday – Saturday and 2 hours before curtain) or through TicketsWest (subject to a convenience charge) Phone: 800-992-8499.
Monday, July 4, you'll continue your traditional celebration in Warrenton, less than 15 minutes away by the Pacific Coast Scenic Byway, at their Old-Fashioned Fourth of July. There's a Classic Car Show (11 am – 3 pm), and Volunteer Firefighters' community Barbecue (noon – 3 pm). At 3 pm, be ready to 'March through Time', the theme for the 2016 Parade.
You'll end your Independence Day celebration with Astoria's fireworks display, Monday evening. So make your reservation now for an old-fashioned celebration and getaway to celebrate our nation's birthday!