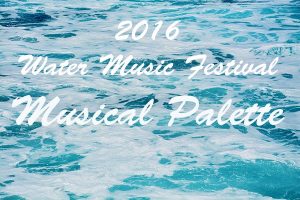 What better place for the Water Music Festival than Washington's Pacific Coast? You'll  listen to the artistic strains of jazz, guitar, and classical piano, as well as the sounds of the surf, at this year's festival, Musical Palette, on Friday, October 14 and Saturday, October 15, 2016. Friday's evening concert and Saturday's afternoon and evening concerts are held at three different venues along the Long Beach Peninsula, all less than 40 miles from Astoria, Oregon, and Clementine's Bed and Breakfast. Tickets for individual performances may be purchased online at the Water Music Festival website.
Friday evening, October 14, 2016, features the highly regarded jazz group Pearl Django with guest vocalist Gail Pettis, recently named Northwest Vocalist of the Year. You'll swing to their two decade repertoire of both original compositions and jazz classics at Ilwaco, just a 15 minute drive over the Astoria-Megler Bridge from Astoria.
Admission: $35 Social Hour: 6:30 pm  Concert: 7:30 pm
Venue:  Inn at Harbour Village, Ilwaco  120 Williams Avenue NE  Ilwaco, WA 98624
Phone:  (360) 642-0087
Saturday afternoon, October 15, 2016, you'll enjoy the 50 minute drive up the Long Beach Peninsula to Ocean Park, WA, to hear Cavatina Duo at the historic Oysterville Church. The duo of Eugenia Moliner, flute, and Denis Azabagic, guitar, have performed world-wide to critical reviews of both their sophisticated style and technical artistry.
Admission: $30 Concert: 12:00 pm – 2:00 pm
Venue:  Oysterville Church, 33590 Territory Road, Ocean Park, WA , 98640
Saturday evening, October 15, 2016, you can venture a little farther up the coast to scenic Ledbetter Farms in Ocean Park, and listen to the poetic notes of Tien Hsieh, renowned classical pianist. Winner of major piano competitions, she is known for her personal warmth and sense of humor as well as her superb performances with symphonies and at festivals across the country, as well as in Germany, Hungary, and China. Her most recent CD is entitled Bach & Beethoven: Mostly Transcriptions 2.
Admission: $45 Social Hour: 6:00 pm  Concert: 7:00 pm
Venue:  Leadbetter Farms  35710 I Place Ocean Park, Washington, 98640
Astoria and surrounding areas host many events on the weekend of October 14-16, 2016, so don't wait to purchase your Water Music Festival tickets and reserve your stay at our B&B soon!