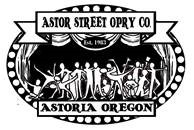 Astor Street Opry Company returns to their historic Uniontown district playhouse the weekends of October 7-22, 2016, with its fall production of Barefoot in the Park by Neil Simon. Lisa Fergus directs the local four-person cast in this romantic comedy. Get ready to travel back in time to the 1960s and across the continent to New York, where you'll spend your evening with newlyweds Corie and Paul Bratter at their brownstone apartment. You'll laugh as the two young lovers navigate the stumbling blocks of learning to live together, when it seems that anything that can go wrong does, and a surprise visit from the mother-in-law adds to the conflicting family emotions.
October brings fall weather to Oregon, making it the perfect month to plan a weekend getaway at Clementine's Bed and Breakfast and take in the Astor Street Opry Company's autumn production. You'll have plenty of extra time to enjoy some shopping, antiquing, or even strolling barefoot in Astoria's parks, so don't wait to reserve your stay at our bed and breakfast and your tickets for the show.
Astor Street Opry Company
129 West Bond Street, Uniontown, Astoria, OR 97103
Phone: 503-325-6104
E-mail: info@astorstreetoprycompany.com
Performances
Friday & Saturdays at 7 pm: October 6-7, October 14-15, October 21-22, 2016
Sunday at 2 pm: October 16, 2016
Tickets: $7 – $16
The house opens 30 minutes before each performance
Purchase tickets online http://astorstreetoprycompany.com/purchase-tickets/, by phone (leave message with name, phone number, date and number of tickets required) or by mail (send check to Astor Street Opry Company, P.O. BOX 743, Astoria, OR 97103 at least 1 week prior performance)
Production sponsored by Mossy Tech, L.J. Allen Construction and Bogh Electric.