Dead men (and women) talking? It's true at Talking Tombstones, an annual living history event when interpreters bring people buried in the cemetery 'back to life' by portraying their past lives the historic Astoria, Oregon region. This year, the Clatsop County Historical Society is partnering with the Seaside Museum to present Talking Tombstones XIII, Buried Treasure, at Evergreen Cemetery, Seaside, Oregon on Sunday, October 30, 2016, from 1 pm until dusk. Who knows what former residents will appear from their graves to tell you about their lives in the first seaside resort in Oregon, a major tourist attraction of the Pacific Northwest for over a century?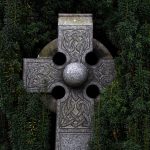 They may be women or men, famous citizens, infamous scoundrels, or residents remembered by their descendants alone. They may have come from many walks of life – a hotel owner, a midwife, or an excursion boat captain – but their different journeys brought all of them to this part of the Pacific Northwest in the past. Who knows what buried treasure they were seeking?
You'll only find out who appears if you join hundreds of visitors who come to listen to the life stories of these early residents who lie beneath tombstones often noting no more than name, birth, and death. You'll need to spend time chatting with all the spirits who appear from the past, so be sure to arrive by 3 pm, since spirits begin to fade away as the sun sets over the Pacific and dusk falls over the cemetery.
Seaside is a scenic half hour drive down the Oregon coast from Astoria, and there's plenty to fill your day there, from a visit to Arcadia Beach State Recreation Area, to feeding the seals at the Seaside Aquarium, to the Seaside Museum, where exhibits show over 2,000 years of the town's heritage, including a diorama depicting Seaside in 1899. So book your room at Clementine's Bed and Breakfast now, and make plans to seek friendly Seaside spirits and their buried treasure this Halloween season.
Talking Tombstones XIII: Buried Treasure
Evergreen Cemetery, Beerman Creek Rd, Seaside, OR 97138
Date: October 30, 2016 Time: 1:00 PM – Dusk
Dampness doesn't bother the deceased at all, so you can expect spirits to be  present rain or shine
Admission: FREE
Sponsored by Astoria Granite Works