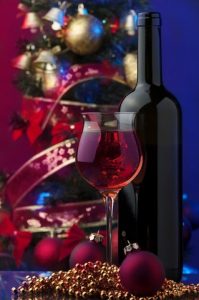 As the holidays approach, some of us wonder what sparkling wine or champagne to choose to celebrate the many festive occasions as the year draws to a close. Astoria's Cellar on 10th  will have the answers for you on December 3, 2016, when it hosts its annual Holiday Sparkling Tasting that afternoon and its Holiday Sparking Winemaker's Dinner that evening. The Tasting gives you the chance to sample bubbly from different worldwide regions producing these festive beverages, and make plans for the season's entertaining. Even better, why not begin the season's festivities yourselves at the Winemaker's Dinner that evening? You'll enjoy a five-course gourmet dinner featuring Pacific Northwest cuisine, perfectly matched with Champagne and sparkling wines. Space is limited in the Cellar Room so make your reservations early.
If you're planning your Astoria getaway for some other weekend in November or December, don't despair – The Cellar on 10th hosts a wine tasting each Saturday. Their weekly tastings in November and December feature wines chosen especially for different holidays from Thanksgiving to New Year's Eve. Plan to stop by on Saturday afternoon from 1:00 – 4:00 pm and enjoy the tasting, or just browse in their well-stocked shop. There is a $5.00 tasting fee, complimentary with a purchase of the wine tasted.
November 19, 2016            Wines for Thanksgiving
November 25 & 26, 2016   Holiday Open House and Special Tasting
December 3, 2016               Annual Holiday Sparkling Tasting
December 10, 2016             Wines for Holiday Entertaining
December 17, 2016             Wines for Christmas
December 24, 2016             Christmas Eve Surprise    Time: 12:00 – 3:00 pm
December 31, 2016             New Year's Eve Surprise
The most festive season of the year is almost here, so book your weekend getaway at Clementine's Bed and Breakfast, and get ready to enjoy the holiday spirits you'll discover in Astoria!
The Cellar on 10th in Astoria's Historic Underground
1004 Marine Dr., Astoria, OR
Phone: (503)325-6600
Saturday Wine Tastings
Time: 1:00 – 4:00 pm
Cost: $5 tasting fee
Holiday Sparking Winemaker's Dinner
Date & Time: Saturday, December 3, 2016 from 6:00 pm – 8:30 pm C
ost: $125 per person