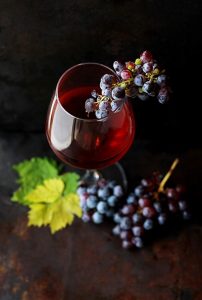 UnWined in Astoria March 4, 2017, at an exclusive preview of award-winning wines to be featured at April's  Astoria Warrenton Crab, Seafood & Wine Festival. Every year, approximately 40 Oregon winemakers complete for these honors, creating a field of close to 150 wines for the judges to evaluate. The 2016 winners were Zerba Cellars' Malbec 2013 (Best of Show Red), TeSoAria Vineyards' Vermentino "Secco" 2015 and Namaste Vineyards' "Peace" White Blend 2013 (Best of Show White), while the People's Choice Award went to Seufert Winery's White Pinot Noir 2014.
While you sip and you consider your own vote for the People's Choice Award, you'll be able to meet judges Jade Helm, Kerry McDaniel Boenisch, Mattie John Bamman, and Patrick McElligott, and learn more about Oregon wines.  Delicious appetizers accompany the wines, plus live music by violinist Rory Holbrook, whose improvisational style ranges from classical and Celtic to modern. Best of all, you'll be the first to learn the 2017 competition results – what the judges decide will be Best of Show for the Festival. Your ticket includes 10 wine tastes (additional tastes may be purchased), appetizers, and a souvenir 2017 UnWined wine glass.
Don't miss this wonderful chance to learn more about – and sample – Oregon's great wines. Book your weekend stay at Clementine's Bed & Breakfast now– you'll savor the tastes of wine knowing we're less than a 10 minute walk away!
UnWined 2017
Saturday, March 4, 2017, from 5:30 pm. – 8:00 pm
Venue: Liberty Theater: Paulson Pavilion & McTavish Room (Use side entrance on 12th Street)
1203 Commercial Street Astoria, OR 97103
Tickets: $35.00 (may be purchased online)
Only people age 21+ may purchase tickets and attend– a valid ID is required at the door.
For more information, contact Kelsey Balensifer Phone: 503-325-6311
Email: kelsey@oldoregon.com