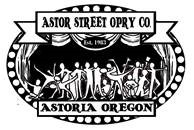 Need an antidote for any lingering winter blues? If you've laughed at being "Shanghaied in Astoria", then the Astor Street Opry Company has just the cure for you! Make plans to travel farther back in time when they present their original production: "Lewis and Clark, or How the Finns Discovered Astoria." Welcome spring with this vaudeville-style musical melodrama where you can cheer for the heroes as they struggle to make their way from Missouri to Oregon, and boo the evil villains they face at every turn. Will they be able to rescue the Corps of Discovery? Lose their most precious cargo? You'll rejoice when our heroes finally arrive at the Pacific to found Astoria, and can celebrate with their supply of beer!
Evening Performances: Fridays & Saturdays March 31 – April 29, 2017 at 7:00 pm
Sunday matinees: April 9, April 23 at 2:00 pm
The house opens 30 minutes before each performance.
Tickets are $5.00 for Friday performances and $7.00 – $16.00 for Saturday and Sunday performances.
Tickets may be purchased online or by phone: 503-325-6104.
A stay at historic Clementine's Bed & Breakfast will put you in the mood to visit the Opry Company's Astoria of long ago, without sacrificing any of the comforts of today. Leave the lumpy beds and dried provisions to the Finns – you can look forward to luxurious bed linens, robes and spa-quality bath amenities, multi-course gourmet breakfasts, plus complimentary beverages and small bites each afternoon! Celebrate spring's arrival with a refreshing weekend getaway to Astoria – just give us a call or go online to book your stay.