Washington sails into the Port of Astoria June 7, 2017, where she will drop anchor at the Maritime Museum until the morning of June 10, 2017. You might recognize her from roles in such movies as the 2003 Pirates of the Caribbean: The Curse of the Black Pearl.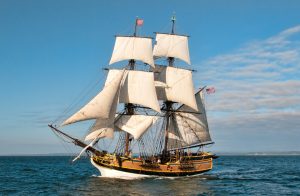 The State of Washington's official tall ship, she is a full size replica of the original Lady Washington. That Lady sailed around Cape Horn, was the first U.S. ship to visit Honolulu, Hong Kong and Japan, and helped inaugurate America's Pan-Pacific trade in the late 18th century.
Board the ship and you travel back in time more than a century before Astoria was founded to find out what life was like aboard a sea-going trading vessel. The Vessel Tour lets you explore the ship and visit with the crew while they are docked. Evening Sails let you experience the Lady Washington ship under sail, where you'll learn about its handling, sea shanties, and have the chance of watching a sunset on shipboard.
Brig Lady Washington
Gray's Harbor Historical Seaport 
Docked at: Columbia River Maritime Museum 1972 Marine Drive Astoria, OR 97103
Dates: June 7 – 9, 2017
Schedule
Wednesday, June 7, 2017
   Vessel Tours: 12:00 – 5:00 pm  Evening Sail: 6:00 – 8:00 pm
Thursday, June 8, 2017
   Vessel Tours: 1:00 – 5:00 pm
Friday, June 9, 2017
   Vessel Tours: 12:00 – 5:00 pm Evening Sail: 6:00 – 8:00 pm
Admission:
Vessel Tour: $5 donation requested
Evening Sail: Adults $49, Children 12 & under $42; must be accompanied by adult.
Tickets required for all passengers.
For tickets go online or phone: 800-200-5239
Photo by Bob Harbison. Grays Harbor Historical Seaport Authority. Copyright 2014. All Rights Reserved.