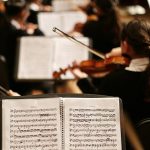 Voted Oregon's Best Fine Arts Festival, the Astoria Music Festival offers "a string of jewel-like presentations – first-rate soloists, top-notch orchestral playing – at the beautiful renovated 1925 Liberty Theatre…"- Oregon Music News. The 2017 15th Anniversary Festival features international vocalists and instrumentalists performing symphonic and chamber music, opera, and more from June 11 – 25, 2017.
The concert series opens with Metropolitan Opera's Angela Meade in her Oregon Solo Recital Debut with acclaimed pianist Danielle Orlando . The Grand Finale on Sunday, June 25, is The Barber of Seville with Mexican baritone Luis Ledesma as Figaro leading the all-star cast.
Other 2017 highlights include:
The Festival Orchestra performing Stravinsky's Firebird Suite and the Oregon Premiere of Philip Glass' Spectacular, a sci-fi multi-media experience.
Two Baroque in Grace Concerts featuring Astoria Music Festival Baroque soloists, Baroque trumpet, Baroque cello and harpsicord performing works by Purcell, Handel, Corelli, Bach, Marcello and more.
3-Leg Torso's eclectic program of Tango, Klezmer, Latin, and Roma (Gypsy) music.
Beethoven and Blue Jeans – an informal mash up of music by singer-songwriter Israel Nebeker, plus eclectic classical jam.
Three Chamber Music Concerts with works by composers including Brahms, Turina, Schubert, Strauss, and Schumann, plus music by, and inspired by Wagner's operas.
The Michael Foster Memorial Concert, Saturday, June 17, 2017, begins with Paganini's Violin Concerto No. 1 featuring Roberto Cani, followed by Beethoven's Symphony No. 9 'Ode to Joy' performed by the Festival Orchestra, soloists Deborah Mayer, Angela Niederloh, Marco Panuccio, and Richard Zeller, the North Coast Chorale and the Portland Symphonic Choir.
Festival concerts are held in the historic Liberty Theater and several other Astoria venues. See the Astoria Music Festival website for complete schedule, featured artists, and ticket information. Ticket prices are specific to the concert or program, available by phone: 503-325-9896 or online
From Baroque to Sci-Fi Spectacular, Beethoven to The Barber of Seville, you'll find programs just right for you, so reserve your stay at Clementine's Bed Breakfast now, and experience this outstanding Oregon music festival!