The current exhibit at the Columbia Pacific Heritage Museum, Oregon's Botanical Landscape: An Opportunity to Imagine Oregon Before 1800, presents works by Corvallis resident Frances Stillwell.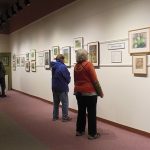 Her 82 pastel drawings, watercolors, and oils represent the native flora of all eight of Oregon's ecoregions, from the Coast Range and Klamath Mountains to the Columbia Plateau and Blue Mountains. She says: I paint in response to what I see, though often don't realize what that is until afterwards. – The Democrat Herald, March 13, 2009.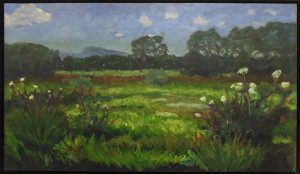 Her award-winning artwork has been displayed in multiple juried exhibits. In the forward to this exhibit's companion book, she writes: This is my window into Oregon's botanical landscape. By the end of this book…  You will have become more familiar with the natural world of Oregon. Familiarity is the first step towards a sense of home. Like the book, the exhibit's purpose is education about the natural world, taking time to slow down and stop, to consider colors, shapes, and shadows.
Wildflowers abound during the spring and early summer here in Astoria, so why not plan a getaway to Clementine's Bed & Breakfast soon, and enjoy both our flora blooming in nature and that experienced though Stillwell's botanical landscapes?
Oregon's Botanical Landscape: An Opportunity to Imagine Oregon before 1800
Dates: May 12 – July 8, 2017
Columbia Pacific Heritage Museum
115 SE Lake Street Ilwaco, WA 98624 Phone: 360-642-3446
Museum Hours: 10:00 am – 4:00 pm Tuesday through Saturday; closed Sunday & Monday
Museum Admission: Adults $5.00, Seniors (55+)$4.00, Children (12-18) $2.50, Children under 12, Free
Admission on Thursdays is FREE for everyone thanks to the Port
Images courtesy of Columbia Pacific Heritage Museum