Columbia Pacific Heritage Museum's current exhibit, Oregon's Botanical Landscape, inspires hikes in places like Saddle Mountain State Natural Area, where wildflowers peak from late June until mid-July. AllTrails ranks the hike # 4 of 106 hikes in Oregon. They say:
"Be prepared to marvel at the sheer volume of natural beauty packed onto the mountain, from a mature forest setting to fields of wildflowers to an open rocky summit. The view from the top of the mountain is one that cannot be described … it must be experienced."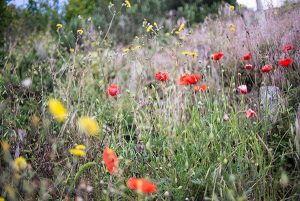 AllTrails rates the hike to the summit as moderate difficulty with some steep grades, recommended for experienced hikers. One a clear day, the 360 degree views from the highest point in Clatsop County include Astoria, ship traffic as it approaches and enters the Columbia River, miles of Pacific shoreline, the Coast Range to the south, as well as views of Mt Rainier, Mt St Helens, Mt Baker and Mt Hood. Visit the AllTrails website for hiking information and maps. Paul Gerald's blog also has detailed information.
If an easier hike is your style, follow the main trail for just a quarter mile from the trailhead and take the short Humbug Mountain viewpoint trail.  While you won't have the panoramic views from the summit, this trail offers the only real view of Saddle Mountain while in the park.
Although you can see Saddle Mountain in the distance from the Astoria Column, the Oregon State Park is about three-quarters of an hour drive from Clementine's Bed & Breakfast – but worth the drive! Wildflowers reach their peak during the next month, so don't wait to book your B&B getaway. We'll fortify you with a bountiful breakfast to begin your day, and relaxation in our flower-filled garden will await your return from the day's adventures.
Saddle Mountain State Natural Area
The 2.5 mile trail to the 3,283-foot summit climbs 1,650 feet from the parking area.
Fees: None for hiking.
Facilities: Restrooms and picnic sites at the trailhead.
Suggestions from other hikers to make the hike more enjoyable: start early in the morning to avoid midday heat, check the weather which may be different from Astoria, layer your clothing (temperatures are different at the trailhead and summit), wear good hiking shoes with ankle support, consider hiking poles or a walking stick, bring a picnic lunch to enjoy, 1-2 liters of water per person, a camera for photographing wildflowers, and a good pair of binoculars to enhance views from the summit.