Saturday, July 15, 2017, the Water Music Society will host its 11th annual Music in the Gardens Tour on Southwest Washington's Long Beach Peninsula, just north of Astoria. Gardens on the Tour are located from Chinook, WA (about 15 minutes from Astoria) to Oysterville, WA, 45 minutes away. Each stop on the garden tour features live music in various styles, plus master gardeners happy to share their knowledge as well as the history of their properties.  Most of the gardens will tempt you to linger to enjoy the small bites and beverages they are offering.  One of the gardens will have raffle items as well. Visit the Tour's Facebook page as the tour date approaches for highlights about the musicians and artists to be featured, as well as preview the gardens in bloom and raffle prizes.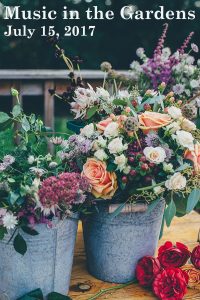 Tickets are $20 per person and include the Tour map and a keepsake brochure with information about the gardens and points of interest.  The event benefits the Water Music Society, whose mission is to bring classical music to the Long Beach Peninsula, and the Ocean Beach School District Music Program. We can't think of a better way to spend a summer day in July than enjoying music and art in these beautiful coastal gardens near Astoria. We have several rooms still available for your getaway that weekend, so don't wait to give us a call or go online to make your reservation.
Water Music Society's Music in the Gardens
Date: Saturday, July 15th, 2017  Time: 10:00 am – 4:00 pm
Tickets: $20.00 for adults; children under 18 are free.
Tickets may be purchased online; the Garden Tour map may be obtained at one of three locations on the tour. The location closest to Clementine's Bed & Breakfast  in Astoria is The English Nursery at the intersection of US 101 and 103 in Seaview, WA.