While visiting Astoria this summer, step back two centuries in time to the Lewis and Clark National Historic Park and experience what life was like for the Corps of Discovery when they wintered at Fort Clatsop in 1805-6. The log fort is a replica of the one described in William Clark's journal.  A 50-minute audio tour includes journal readings, music of the Corps of Discovery, and voices of the descendants of the Clatsop and Chinook Native American tribes who helped the Expedition survive the winter.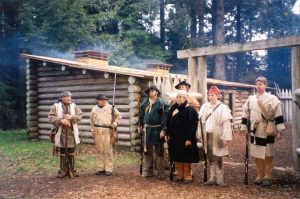 During the summer months, you can watch Fort Rangers dressed in buckskins reenacting Raising the Colors at 9:30 am, and Lowering the Flag at 5:30 pm. Throughout the day, you can see the Rangers demonstrating skills essential for the Corps' survival, such as hide tanning, using flint and steel to make fires, writing with quills, and flintlock shooting. Every day the Fort presents Flintlocks: Tools of Survival at 10:30 am and 1:30 pm, and Historical Demonstrations from 11:00 am -1:00 pm and 2:00 -4:00 pm.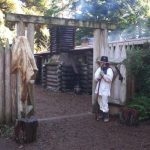 Other programs offered this summer include Neutel Trail Guided River Walks at 11:00 am and 2:00 pm each day.  If you enjoy longer hikes, the Park includes almost 15 miles of trails following paths similar to those taken by members of the Expedition. At the Visitor Center, you can see films, displays of artifacts, and browse the gift shop with books and media related to the Expedition.
Summer is a beautiful season on the Oregon coast, and we're waiting to welcome you to Clementine's Bed and Breakfast while you enjoy all the Astoria area offers, from history to hiking, and Railroad Days to the Regatta!
Fort Clatsop, Lewis and Clark National Historic Park
June 21, 2017 – September 4, 2017
Hours: 9:00 am – 6:00 pm.
Admission: Adults (ages 16+): $5 per person for a 7 day pass; Children 0-15 free.
National Parks and Federal Lands Passes and Oregon Coast Passes are honored.
Images courtesy of the National Park Service