Did you know, a century ago you might have risked being Shanghied right here in Astoria – kidnapped "for the crew of a ship by unscrupulous means, as by force or the use of liquor or drugs" (www.dictionary.com)? Luckily, today, you're just invited to an evening of fun and laughter. The Astor Street Opry Company transformed tales of the city's sometimes infamous past into vaudeville, with the 33rd annual production of its original musical melodrama: Shanghaied in Astoria.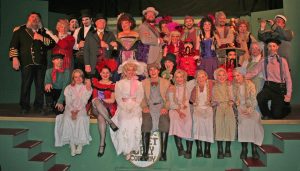 Will Miss Virginia Sweet be rescued by her Norwegian hero? How will he outsmart her guardian? Get ready to cheer the heroes, and throw plenty of popcorn at the villains while you enjoy a less than historical, but rather hysterical, performance. The curtain is going up on this summer's production, so don't wait to reserve your weekend getaway at Clementine's Bed & Breakfast. We promise a fun-filled evening, plus all the other entertainment the Astoria area offers, from fine dining and shopping to outdoor adventures.
Shanghaied in Astoria July 6 – September 9, 2017
Astor Street Opry Company Playhouse, 129 West Bond St. Astoria, Oregon
Evening performances: Thursday, Friday and Saturday evenings at 7:00 pm
Box Office opens at 6:00 pm, doors open at 6:30 pm.
Sundays Matinees: July 16, August 6, and September 3, 2017 at 2:00 pm.
Box Office opens at 1:00pm and doors open at 1:30 pm
Tickets: Range from $13 to $21 and can be purchased online or by phone: 503-325-6104. Although tickets may be available at the door beginning one hour before each show, reservations are recommended.
Photo courtesy of Astoria Warrenton Area Chamber of Commerce