But Isn't Kayak-Building Best Left for the Professionals?
Sure, if you just want to get out on the water, maybe buying or renting a ready-made kayak is for you. But imagine cruising down the Columbia River or along Sunset Beach on your very own kayak, built with your own hands. With the help of expert kayak-builder Chuck Bollong, you can make that dream a reality by signing up for a class through the Columbia River Maritime Museum.
What Kind of Class is This?
The class is a 7-day course that will guide you through the process of creating a stitch and glue one-person kayak from a pre-cut kit from Pygmy Boats. The "stitch and glue" method is best compared to sewing. You will use wire "thread" to stitch the pre-cut panels together and finish it off with epoxy glue. The instructor will even get some of it started for you before the beginning of class. When the course is over, your boat will be about 60% finished, and you will have gained all the skills you need to complete the rest on your own. No prior woodworking experience is required, and only a few easily-acquired hand tools are necessary. The instructor, Chuck Bollong, has been teaching and building for years and will make sure you have everything you need to create your very own wooden kayak.
The Details
This class is offered regularly, but the one coming up next will run from December 9-15, 2019 (8:30 a.m. – 5 p.m.). The class is held in the Barbey Maritime Center (formerly the Astoria Train Depot), just down from the Columbia River Maritime Museum's main building. See the Columbia River Maritime Museum's class page for details about tuition costs and refund policies.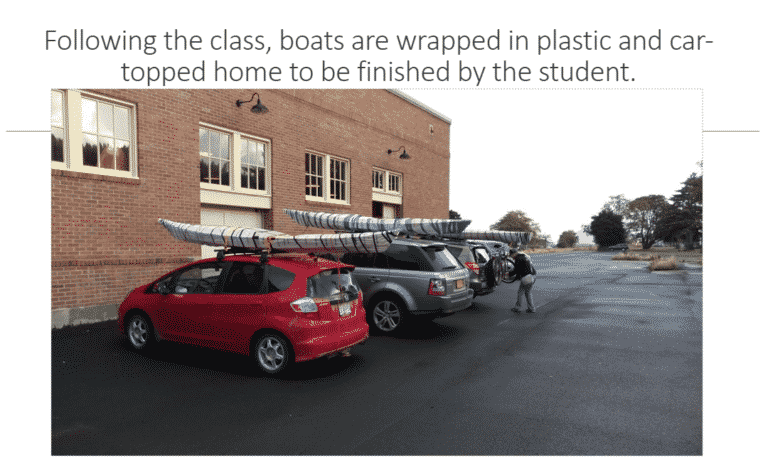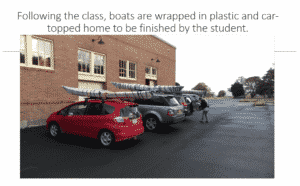 Stay With Us!
Folks from all over North America have traveled to Astoria to create their own one-of-a-kind piece of art (from Alaska to New Mexico and everywhere in between!). Make your vacation a unique experience by bringing home your handmade kayak as a souvenir! We'd love to host you as you take on this new experience. We are less than a mile from the Barbey Maritime Center, so we're the perfect place to come back to after a day of working in the boat shop. Book now to reserve your room for class!