May is Oregon Wine Month, but any month is a great time to check out the tasting rooms in Astoria and nearby Seaside.  You don't have to drive to enjoy an afternoon of wine tasting in Astoria – you can visit both Shallon Winery and the Cellar on 10th on just a mile-long stroll through Astoria's downtown from Clementine's Bed & Breakfast. If you're planning to visit the Buddha Kat's tasting room in nearby Seaside, just drive half an hour south on Route 101 to this quaint town, where you can enjoy its beaches and wildlife, plus visit Lewis and Clark's 1806 Salt Works, feed Seaside's seals at the Aquarium,  and stroll along the oceanfront promenade.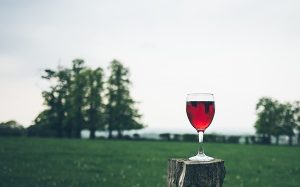 Shallon Winery
Location: 1598 Duane St, Astoria, OR 97103 Phone: 503-325-5978
Open daily: Approximately 1 pm – 6 pm
Shallon's tasting room overlooks the Columbia River and Washington in the distance. The one-man winery features two unusual wines: Cran du Lait and Chocolate Orange, both made using whey (including all of milk's vitamins and minerals). Cran du Lait is a smooth, semi-dry cranberry-and-whey wine, especially popular at holiday times. The rich Chocolate and Orange whey wine, made with six different chocolates, is similar to a liqueur – it can be served as a topping for ice cream or cake, a dip for fruit, or warmed as an elegant hot chocolate with a dollop of whipped cream. The Los Angeles Times describes it as "a bonbon in a bottle."
The Cellar on 10th
Location: 1004 Marine Drive Astoria, OR 97103
Phone: 503-325-6600
Open: Tuesday – Saturday: 10:00 am – 5:30 pm
The Cellar on 10th stocks an extensive inventory of Oregon wines. The Cellar has a wine bar, and offers Saturday afternoon wine tastings with a new winery featured each week.
Buddha Kat Winery
Location: 37 North Edgewood, Seaside, OR  97138
Phone: 503-739-7023
Winter Hours: Sunday-Thursday 12 – 6 pm, Friday & Saturday 12 – 8 pm
The Seaside tasting room features award-winning red and white wines and port from vineyards near their winery in Sandy, Oregon. Offerings include a Willamette Valley Gewurztraminer, Columbia Valley semi-sweet Riesling, Columbia Valley Cabernet Franc, and Columbia Gorge Chardonnay aged in a mixture of oak and stainless steel. Their fruit wines come from the same area. They suggest serving their blackberry wine with any rich dessert, and pairing their raspberry wine with anything chocolate.
May is a beautiful time of year in Astoria, and celebrating Oregon Wine Month is a great excuse for a getaway, so give us a call or go online and book your stay today!