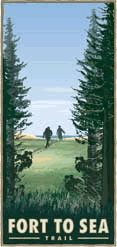 National Park Week – April 15 to 23, 2017 – is the time to highlight some great hiking trails in the Lewis and Clark National Historical Park to enjoy during your vacation in Astoria. The Fort to Sea Trail and its associated trails are great choices for nature lovers and history buffs alike.  The Trail winds through the Oregon landscape where Clatsop Indians once lived, and Lewis and Clark's Corps of Discovery explored and documented during their expedition in 1805-1806.
Beginning at the Visitor Center at Fort Clatsop, you'll hike 6.5 miles through forest, pastures, and dunes to Sunset Beach on the Pacific coast. The first two miles bring you to the top of Clatsop Ridge, and your first view of the Pacific. From there, the trail leads through woods and pastures, then gentle dunes and beach woods to reach the beach. If you're looking for wildlife, you might see deer, elk, beaver, bear or eagles along the way. Returning to Fort Clatsop on the Trail will make the total length of your hike 13 miles; alternatively, arrange for a cab or other transportation to meet you at Sunset Beach. To hike the trail from the ocean to the Fort, begin at the Sunset Beach/Fort to Sea Trailhead on Sunset Beach Lane, Warrenton, Oregon. For details about this moderate difficulty hike, visit the AllTrails website.
You have lots of options for shorter hikes along parts the Trail as well: From the Fort's Visitor Center trailhead, a short ½ mile loop is great for families with small children or just some exercise. From the Fort's Visitor Center to Clatsop Ridge and back is about 4 miles. For a shorter roundtrip hike, take the portion of the Trail from the Fort's Visitor Center to Clatsop Ridge, then back to the Visitor Center. At the Sunset Beach, a 1-mile trail leads from the Sunset Beach/Fort to the Sea Parking area down to Sunset Beach and back.
Oregon's spring weather is great for hiking, with daytime highs in the 60s, so make plans to follow in  the Corps of Discovery's footsteps and explore the Lewis and Clark National Historic Park . Book your stay at Clementine's Bed & Breakfast – you'll start your hiking day with a delicious gourmet breakfast, and all the comforts of the inn will await your return at the end of the day.
Lewis and Clark National Historical Park
92343 Fort Clatsop Road Astoria, OR 97103
Phone: 503-861-2471
Fort to Sea Trailhead and Surrounding Trails are open daylight hours all year.
Entrance Fee (ages 16+) $5.00 per person
Image courtesy of National Park Service