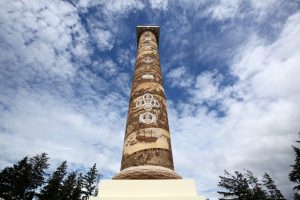 Fall is a beautiful season for hiking in the Pacific Northwest, and Astoria offers the perfect combination of a short hike to enjoy our urban forest and a visit to the Astoria Column – hiking the Cathedral Tree Trail to one of Astoria's most famous landmarks and its spectacular views. Of course, you can drive up Coxcomb Hill to the parking area for the Column, but the soft surface footpath offers the additional reward of a moderately easy 1.6 mile loop through Sitka spruce, western hemlock and alder to reach the Column. As you ascend through the woods, you will see interpretive signs explaining both the history of Lewis and Clark and native plants. The Cathedral Tree, for which the trail is named, is a 200 foot high Sitka spruce over 300 years old.
The Astoria Column is modeled after Trajan's Column in Rome (A.D. 106). It's sgraffito frieze celebrates three historic events at the mouth of the Columbia River: Captain Robert Gray's explorations, the Lewis and Clark Expedition; and the arrival of the ship Tonquin to establish an outpost of the Pacific Fur Company. Scenes depicting these events spiral 125 feet from the base of the Column to just beneath its viewing platform.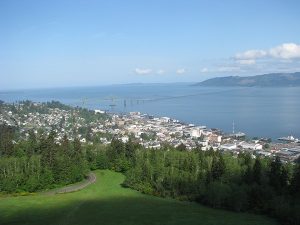 A narrow 166-step spiral staircase leads you up to the viewing platform. Your rewards are views of Astoria, the Astoria-Megler Bridge spanning the Columbia River, Young's Bay and Young's River, and the Coast Range beyond Saddle Mountain to the south and beyond Cape Disappointment to the north. In the distance, you may see the Pacific, and on a clear day, even Mount Olympus.
Descend from the Column to see a replica of Chief Coboway's burial canoe on the Column grounds. The memorial honors the leader of the Clatsops, who was given Fort Clatsop as a parting gift by the Lewis and Clark Expedition in 1806.
You'll find the Cathedral Tree Trailhead (and several parking spaces) at Irving Avenue and 28th Street, about a mile and a half from Clementine's Bed & Breakfast. Note that the trail is steep in some places, and may be muddy in wet weather, so footwear with good grip is advised. Detailed information about the trail is available on OregonHikers.org and Alltrails.com. The Column is among the most visited parks in the state of Oregon, so be sure to add it to your bucket list for Astoria, and reserve your stay at our bed and breakfast.
Photos courtesy of Astoria Warrenton Area Chamber of Commerce